Dr. Anthony Colando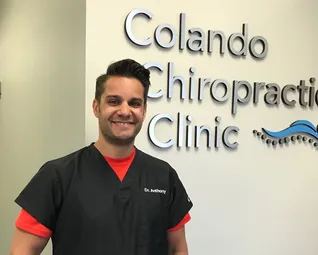 Dr. Anthony Colando is a chiropractor who serves Bloomingdale and the surrounding communities in Illinois.
"Dr. Anthony" M. Colando received his undergraduate degree from Illinois State University and his doctorate degree in Chiropractic from National University of Health Sciences. During his internship Dr. Anthony was considered the clinician's choice for their own personal chiropractic adjustments. Growing up in Chicago's western suburbs, he was raised in a "Chiropractic Family" and was inspired at a very early age by his chiropractor /uncle, who taught him early on about the powerful healing benefits of Chiropractic. "This made quite an impact on me", Dr. Anthony said. "Deep down I knew I always wanted to do something with my life that would impact the health and well-being of others".
Dr. Anthony uses chiropractic care to improve the health and wellness in all areas of patient's lives, whether they are having problems with back pain or neck pain, or just want to start feeling better when they wake up in the morning. Dr. Anthony takes a "whole person" approach in chiropractic care, which means looking for the underlying causes of disease, discomfort, and pain, as opposed to just treating the symptoms. Many seemingly unrelated symptoms often arise from imbalances in the spinal column, and Dr. Anthony will be able to determine the root of the pain and create a personalized chiropractic and wellness plan to suit each patient's individual needs. Under the supervision and care of our caring and skilled chiropractor, patients report higher functioning in all areas of their lives.
If you have any questions about our Bloomingdale chiropractor, or would like to learn more about chiropractic care at CCC, please call us at 630-671-9850 today!